Swiss Quality without Compromise
Rüeger has specialized in the development and manufacture of temperature measurement instruments, particularly electrical temperature sensors, bimetallic and gas pressure thermometers since it was founded in Lausanne in 1942.
It has for over twenty years steadily expanding its range, especially in the production of high added value of multi-probes.
Once just the name of a modest engineering workshop, Rüeger has become a synonym for the quality products of a world-renowned company in a success story, which has spanned nearly 70 years.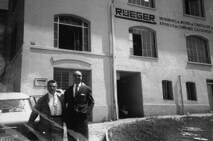 In 2012, Jean-Marc Rüeger was appointed CEO of Rüeger SA with his brother Bernard appointed Chairman of the Board.
In 2019, Rüeger joints a World Wide Group with the takeover by Ashcroft, a wholly owned affiliate of Nagano Keiki Co. Ltd.